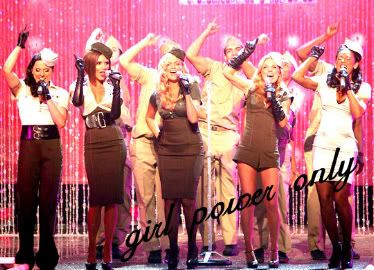 All the personal stuff I write that I don't wish for anyone to just stumble upon is friends only. Some random journal entries that aren't that big of a deal are still public. Comment to be added and I will pretty much befriend anyone that has similar interests as me, Harry Potter, musicals, Saved by the Bell, Little Mermaid, Disney, Zac Efron, baseball you know just your typical stuff :)

After we're friends if there is anything you really want to know ask me, other wise you can find pretty much my life story here
Current Mood:

creative

Current Music:

Stephen Lynch - Classic Rock Song
mission101
. After much time and thinking I've come up with my list. It's pretty random but its stuff I want to get done.
100 day milestones
Start date :Jan 3, 2008
April 12, 2008
July 21, 2008
October 29, 2008
February 6, 2009
May 17, 2009
August 25, 2009
December 3, 2009
March 12, 2010
June 21, 2010
End date: September 30, 2010
(
101 things in 1001 days
Collapse
)
I'm doing it, I'm starting the 101 things in 1001 days challenge. for
Current Location:

@work

Current Mood:

busy

Current Music:

If I Step - Bryce Ryness
I finally got a new phone! I've had crappy little flip phones for the past two years and now I finally have a nice phone! I'm typing this entry up on it :) I'm getting used to full keyboard, it's slow going. I don't really have anything else to say...I really just wanted to see how LJ worked on my new phone. Oh and my friend Chelsie and I had a electronics naming party, my new phone is named Madeline, after Ashley Tisdale's character in Suite Life. My netbook is named Jimmy, because Jimmy cracked corn and I don't care. Chelsie named her phone Caroline because it's sweet and named her laptop Momma because when you're good to Momma, Momma's good to you!


-I'm listening to [title of show] right now and I don't know why.
-I met Dustin Lance Black [the writer of Milk] and he told me all his friends and family call him Lance, so I am more than welcome to call him Lance. Yay!
-I need to sign up for fall classes....yay!
-I need to catch up on tv, Greek, How I Met Your Mother, Nip/Tuck
-The Tony's! I just don't know what to say. Bret Michaels, laughs. NPH is amazing :)
-The Web Soup is awesome. Chris Hardwick is love.
-I'm going to Disneyland tomorrow! Yay for my sisters 19th birthday!
-I'm disappointed by Ashley Tisdale's new cd :(
-I'm failing miserably at my 1001 things. Boo.
-I'm going to attempt JulNoWriMo again! We'll see :)

That's all. For now.
I finally got my computer back! Oh my gosh I was going insane without it. My monitor died today though. Poo. I used to have a 19 inch flat panel, now I have a 15 inch regular monitor. I'm trying not to complain but...ugh...seriously? It had to die the day after I get my computer back and working? Not fair. Just saying.
Current Location:

mi casa

Current Mood:

indifferent

Current Music:

die vampire die - [title of show]
I went to the screening of "Every Little Step" in LA and it was SO much fun. Sarah and I went to LA and the theatre that the screening was at was on Sunset Blvd and we actually shared an elevator with
Jesse Eisenberg
from Adventureland. So that was pretty cool.
I saw "Angels in America", well at least the first three hours of AIA. The next three hours will be presented in November of this year. So long to wait. Seriously AIA is one of the most profound pieces of theatre I have ever seen. The politics and ideas of the show are really interesting and debatable. I went to the show thinking it was going to be the longest three hours of my life but was seriously so sad when it was over and it was time to walk out of theatre. I mean literally profound. Tony Kushner is a genius. No lies.
My 22nd birthday is in 5 days! And I get to go to Disneyland! Yay!
So much more has happened but its late and I'm tired and have to work tomorrow...
Oh Hairspray is coming this weekend, I think I'm going to try and go to Saturday's performance!
So its only been two weeks since I've been on here but I feel like SO much has happened.
Current Location:

@ home

Current Mood:

busy

Current Music:

when it goes down - something corporate


5. You know the same thing went around about Zac Efron a while ago; that he doesn't shower.
Really? He looks like he smells really good [laughs]. I also do shower.


7. I just watched a Ryan Reynolds video interview and he called you "dreamy" and said he'd love to work with you.
[Embarrassed laugh] Really?

8. Is there anyone you'd love to work with?
Ryan Reynolds! [Laugh] ... I've always wanted to work with Benicio Del Toro, I think he's amazing. And there are tons and tons of people ...
Do I even have to admit why this makes me happy? Interview with Robert Pattinson.
Current Location:

mi casa.

Current Mood:

bored

Current Music:

I'm just a girl - no doubt
see_are_uh
and Taylor :) I'll basically be gone for two days, haha. Yay! I'm so excited RENT is back in San Diego. I get to take my 11 year old sister to see RENT for her 12th time! And we were talking about it, her first time was when she was 9 and she rushed her very first time seeing it, haha. We met people in the rush line who told me I had corrupted my little sister, well yeah...what are big sisters for? I'll be seeing RENT for my 20th time....wow. Oh and
jed_parrot
and her mom should be coming down! Yay! Haven't seen them in nine months!
Going down to rush for RENT in about eight hours, with Monica, Fiancee,
Current Location:

mi casa.

Current Mood:

pleased

Current Music:

nada
What celebrity do you think looks like you? What celebrity do other people say you look like?
I personally don't think I look like a celebrity. But I've had multiple people tell me I look like Anna Paquin, its really weird because I don't see it at all. And
see_are_uh
told me she's fugly and gapped toothed, so I was like....kay thanks?
Current Location:

mi casa.

Current Mood:

devious

Current Music:

show me love - robyn


EDIT: Oh and since I don't have internet at my house...that means I can do stuff I've been putting aside. Although that does not help me with the fact that I need to upload stuff I can't...shit.

EDIT2:RENT IN SAN DIEGO IS RUSH! I don't know if I am happy or am dreading...there's the idea that its not chancing on lotto but there's the dread that it'll be super busy and we're literally going to have to sleep on the pavement Monday night. Although it says people can't line up till noon they've always had that sign and never kept with it. Shit. Shit. Shit.
When did they extend the run at the Pantages for RENT? Wow. I didn't know it started tomorrow. I just had a friend saying they were going up to rush tonight...haha um shocker when I call them back to tell them its lotto. I'm way jealous that LA gets 11 days and I can't make it. Damn for losing my job and not knowing of this in advance....damn. I wanted to see Cary too!
Current Location:

daddy's house

Current Mood:

jealous

Current Music:

change - taylor swift
For you jerk face...but obviously anyone can take anything.
Current Location:

mi casa.

Current Mood:

exhausted

Current Music:

konstantine - something corporate